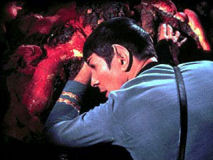 Every day after work for the past few weeks, I've been watching a single episode of Star Trek on DVD. It's great fun to relive these old shows (which were a huge part of my childhood). But they never talk about money! Fortunately, I have a tendency to browse the web, where everyone talks about money. For example:
On Monday I shared links to some payroll calculators — U.S. payroll calculators. In the comments, Jillian pointed to a Canadian payroll deduction calculator provided by the Canada Revenue Agency. (Please feel free to send me non-American equivalents anytime I write about something U.S.-centric.)
Matildaben sent me a great thread at AskMetafilter: My mother-in-law thinks we're cheap!. What happens when you drag yourself up from poverty to a middle-class existence, but your family stays behind? How do different people perceive wealth? What obligation do we have to help family members (or friends) in need? What about those who aren't in need but want financial help anyhow? "Fascinating," as Mr. Spock would say.
Finally, on Sunday The New York Times magazine (which I wish could be purchased on its own) featured a long article entitled Handmade 2.0, which explored how the web is helping to boost a resurgence in hand-made crafts: knitting, painting, woodworking, and more. This long piece examines the promise and pitfalls of small-scale entrepreneurship:
Many of the artist-entrepreneurs opening up their virtual shops on Etsy want [to make] a living from what they love to do. It's a goal that reconciles ideology and self-branding, not so much to change the world as to stake out a place in it.
Live long and prosper!
GRS is committed to helping our readers save and achieve their financial goals. Savings interest rates may be low, but that is all the more reason to shop for the best rate. Find the highest savings interest rates and CD rates from Synchrony Bank, Ally Bank, GE Capital Bank, and more.
This article is about Money Hacks, Money Hacks, Spare Change