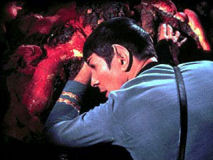 What's better than Star Trek? How about free Star Trek? I've spent the past few months working my way through the original classics featuring Kirk, Spock, and McCoy. Some of the episodes are worse than I remember — some are better. But they're all fun. I spent about $50 per season to purchase these shows on DVD. But now CBS is offering every episode of the original Star Trek series for free via streaming video. Not an ideal solution perhaps (especially since the episodes contain advertisements), but fun nonetheless. Other classic shows available for viewing include:
Speaking of geekiness, the Mighty Bargain Hunter posted a list of seven pairs of easily confused money terms. A couple of these are obscure (mint variety vs. mint error? huh?), but others are useful and interesting. It's important to know the difference between APR and APY. And who knew a cent was not a penny?
Finally, Lifehacker has a feature on giving an old laptop new life with cheap (or free) projects. Lifehacker suggests converting your laptop to a server, using it to extend your wireless range, or revitalizing it with Linux. We have an old laptop that we've converted into a kitchen reference. We store our recipes on it (we use MacGourmet as our database), and keep it updated with calendar and contact information.
GRS is committed to helping our readers save and achieve their financial goals. Savings interest rates may be low, but that is all the more reason to shop for the best rate. Find the highest savings interest rates and CD rates from Synchrony Bank, Ally Bank, GE Capital Bank, and more.
This article is about Money Hacks, Money Hacks, Spare Change