Last autumn, I shared a list of essential personal-finance e-books. These books covered a variety of topics, and many of them were free. Today I want to draw your attention to two new e-books that you may want to consider.
Consumer Action Handbook

First up is the 2010 edition of the Consumer Action Handbook. I've mentioned this book before, and I'll mention it in the future. This book is from the Federal Citizen Information Center, that small department of the U.S. government in Pueblo, Colorado, which distributes free and low-cost consumer publications.
The 2010 Consumer Action Handbook is a 172-page guide to becoming a savvy consumer, and includes information on buying a car, purchasing a home, preventing identity theft, shopping from home, creating a will, and handling unsatisfactory transactions. And much, much more.
This book would be a good buy at $10 or $15, but it's freely available from the U.S. government. (Technically you've already paid for it with your tax dollars, of course.)
This book is a great resource, and I encourage you to order a copy, download the PDF, or bookmark the web site. Though the 2010 Consumer Action Handbook doesn't go into great depth on any subject, it provides excellent informative overviews, and it usually points to further resources. It's perfectly at home on the shelf with all of my other personal finance books. (And was, in fact, an excellent source while writing Your Money: The Missing Manual.)
Unautomate Your Finances
Elsewhere, our very own Adam Baker has just released his first e-book, Unautomate Your Finances, which lays out his personal financial philosophy. This e-book is not free. It costs $17, but comes with Baker's "as long as I have a pulse" guarantee. (If you're not satisfied, send him an e-mail and he'll refund your money as long as he's still alive.)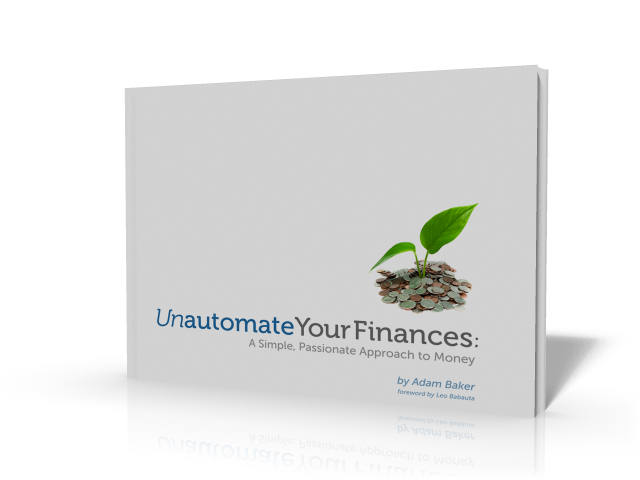 Baker believes that the more you simplify your financial life, the easier it is to control it. He's not necessarily opposed to all automation, but believes that for many of us, automation breeds more complexity than simplicity. He argues that in most cases, automating our financial lives magnifies existing problems, and we'd be better off un-automating things: spending consciously, making sustainable choices, and focusing on our goals.
Along the way, Baker shares solid personal-finance advice on saving for emergencies, coping with credit, and creating a realistic budget. Is Unautomate Your Finances right for you? I don't know. But since it comes with a money-back guarantee, it's certainly worth a look!
GRS is committed to helping our readers save and achieve their financial goals. Savings interest rates may be low, but that is all the more reason to shop for the best rate. Find the highest savings interest rates and CD rates from Synchrony Bank, Ally Bank, GE Capital Bank, and more.