Decided to start a new thread on this particular subject because it's threatening to go way off topic in the "And the Big New in Science This Weekend Was..." thread.
So continuing on...
Kombat, you're pretty good at rhetoric and self-righteous indignation but you have a pretty tenuous grasp on history, fact and context. So that we're all looking at the same thing, I'll link to graph that I'd linked to in another thread, just to ensure that we're looking at the same thing: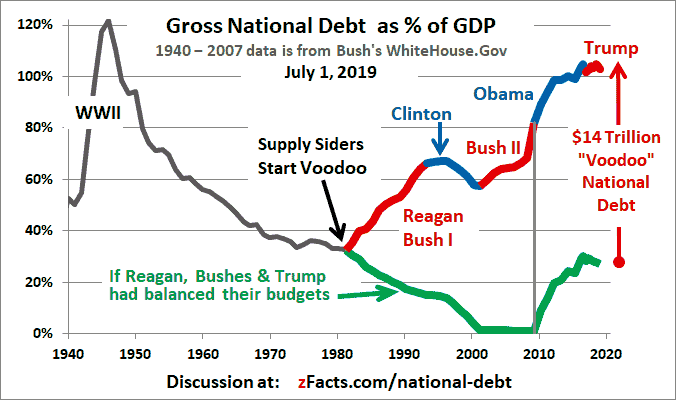 kombat wrote:

VinTek wrote:And what did we get for that? Oh, just stuff like the Interstate Highway System, the Internet, the end of polio, the space program (which paved the way for other stuff like satellite communications), small stuff like that. The list goes on and on.

I never denied they built that stuff. I just said they built it with money they borrowed from their children (i.e., debt).
Actually, the debt was going
down
when most of that stuff was being built. We peaked in debt as a percentage of GDP in WW2 (and I think even you would agree that it was a good thing that we won that) and except for the Reagan/Bush1 and Bush 2/Obama years, had been going down ever since. So with the exception of those years, the Boomers seem to have been keeping debt in check, all while creating new things upon which modern society is based.
kombat wrote:Yes, you have highways. And $14 trillion in debt. We're supposed to say "Thanks" for the highways, and ignore the debt that comes with them?
See the statement and chart above. Debt was going down during the years in which the majority of those highways were being built. Debt really started climbing during the years in which...wait for it...the Gen X folks became eligible to vote. As for the figure of $14T, let's just say that most of it also came during a time when Gen X had the power to vote.
kombat wrote:

VinTek wrote:As for the stock market, there have always been booms and busts

It's my understanding that the current decade of flat returns is unprecedented. As was the 2-3 decades of steady average 12% returns that the Boomers enjoyed from the 70's - 2000.
Well let's see now.
On January 2, 1900, the DJIA was at 68.13. On December 31, 1914, it was at 54.58. So it declined 20% over a 15-year period.
On January 2, 1920, it was 307.01. On December 31, 1953, it was 280.90. So over a 34-year period, it had a net decline of 9%.
On January 2, 1973, it was 1031.68. On December 31, 1982, it was 1046.54. So it was basically treading water for 10 years.
Since that time, the DJIA hit 11722.98 on January 14, 2000. After the whole dot-com bust and 9/11, it dragged itself back up to 12011.73 on October 19, 2006. Peaked on October 9, 2007 at 14164.53. And yesterday it closed at 13008.68. It's your understanding that the current decade of decline is unprecedented? How exactly did you come to your understanding?
kombat wrote:

VinTek wrote:So build your own infrastructure and let the old stuff crumble. OR DO WITHOUT IT. Again, you use stuff another generation built, and now you resent having to pay for it's maintenance. Okaaay....

I never said I resented paying for the maintenance. I said I resented having to pay for the original system, AND the maintenance.

Sure, the Boomers built it. But if their kids have to pay for it, AND the maintenance (and any necessary replacements), then what exactly did the Boomers do, other than pay themselves with their own kids' money?
I hate to break the news to you, but you're still using the original system. What would it have cost your generation to build all new roads? You use the system not just when you drive over roads and bridges, but also every time you buy something that was delivered on a truck. Or delivered by air (did you think the air traffic control system just sprung up out of the ground?). You use the system every time you use your cell phone. Why
shouldn't
you pay for some it? The prior generations may have left some debt to succeeding generations but they also left the benefits to them. You sound like a little kid. "Gimme the car for free, dad; I only wanna pay for the maintenance. What? I have to pay for the car? It's not fair!"
kombat wrote:

VinTek wrote:The point is, things are what they are today. What do we do about it, besides whine?

How about, "nothing?" Why can't we just do the same thing every generation before us did, and do nothing? Just keep doing what we're doing? Why, after 1,000's of years, is it suddenly incumbant on Generation X to be the first generation to make meaningful sacrifice, in the name of preventing some nebulous, far-off catastrophe that a) might never actually happen, or b) might have happened anyway, as a natural part of Earth's climate cycle?
Gen X is the first generation to make a meaningful sacrifice after thousands of years? Are serious? Have you any idea how how you sound? Ever hear of WW2? I know, that wasn't the Boomer generation. My point is that you are so out of touch with history and context, you make up stuff to support your points.
kombat wrote:

VinTek wrote:As I said above, try living without what the Boomers created. Join the Amish if you resent what they've done.

I'm glad they built what they built. I just wish they'd paid for it instead of building it with money borrowed/stolen from their children.
But you're using it today. Whaddaya say we charge Gen X a usage fee, use those fees to pay down the debt and for ongoing maintenance, and call it a day.
kombat wrote:

VinTek wrote:My point is that you've profited handsomely in many ways from the Boomers' achievements.

And MY point is that the Boomers profited handsomely from borrowing money from their children, which stimulated the economy and produced that decades-long run of 12% market returns that we'll never see again in our lifetimes. So they gave themselves jobs building all this stuff, which created a frothy economy which boosted their investments and made them rich. Sure, we're inheriting the highways, but they also stuck us with the tab.
Market returns are predicated on greed and fear. Again you lack historical context, which I gave you above. Bubbles occur when things are purchased above their true value. GDP is actually a better measure of the economy. And aren't you guys part of the problem? You're telling me that none of the Gen Xers bought houses at too high a price? None of them are downside up on their mortgages? None of them were invested in the market when it peaked in 2007?
Also, you haven't profited as well? Give up your cell phones, computers, Internet, etc. You've profited too. Society as a whole has profited.
Gimme a break. If you want to reply, come back with some real figures to support your position.