HO HO HO!
I had intended to post a series of articles on how to save money at Christmas, but they've taken longer to write than I expected. Now it's a little late to leak them out one at a time. Instead, I've bunched the information together into a colossal tip-filled extravaganza! Here are some great ways to save money while celebrating the season. (These tips are great for Christmas, for Hannukah, for Kwanzaa, or for whatever feast you celebrate this time of year.)
Be Organized
Planning saves time and money. It's best to budget for the holidays at the start of the year, and to acquire gifts year-round. Most of us don't have the discipline to do that. (I'm the world's greatest last-minute shopper.) But anyone can make a simple list to track a rudimentary budget:
Determine your total budget. Maybe you have $500 to spend on Christmas gifts. Maybe you have $50. Decide which figure is most appropriate for you and write it at the top of a piece of paper.
List each person with whom you plan to exchange gifts. Arrange these names in order of priority: family and close friends first, work associates last (or whatever is most appropriate for your circumstances). Jot down an approximate budget for each individual on the list. The total of the individual budgets should equal your overall holiday budget.
Brainstorm gift ideas for each person. Write each idea under the person's name. After you've brainstormed ideas, calculate approximate costs for each gift. Write the cost next to the name of the gift.
Trim the list. It's likely that your brainstormed list exceeds your planned budget, possibly by a large amount. Now it gets tough. Reduce your planned spending by finding new, less expensive items for people, or by crossing people from the list. (Do you really need to get gifts for your neighbors?)
Stick to the list. Once you've completed your list, exercise discipline by sticking to your plan. This is the most important step.
My wife keeps a gift spreadsheet. This allows her to keep an ongoing list of gift ideas for the important people in her life. It can be used year-round — for birthdays, holidays, and special occasions. It's also convenient. Say that Uncle Bob mentions in February how he's always wanted one of those clocks with hourly birdsong instead of chimes. Kris can make a note in her spreadsheet right away, and refer to it when it's time to buy Christmas presents.
Agree to Terms
Gift-giving among adults can be awkward. If you spend too much on another person, they may feel uncomfortable. Many people welcome the idea of doing away with gift-giving completely. Some, like my family, establish specific rules.
We've made a tradition of the $5 gift exchange. We give bigger gifts to the kids and to my mother, but the rest of us exchange gifts that cost no more than $5. It's become a game to find interesting, thoughtful gifts for just five bucks. (Or to find amusing, tacky gifts for the same amount.) The first year we did this, the gifts were kind of lame. But with time, we've become more creative. Once in an antique store, I stumbled upon an old photograph that I recognized as depicting some of my sister-in-law's relatives, for example. This year, Kris and I found some awesome gifts at garage sales.
Some people practice a variation of this. They do a $100 holiday, where their entire budget for a particular group (family, circle of friends, etc.) is limited to $100, and that money is divided as needed.
Others agree to only give presents to the children in the group. This relieves the adults of the pressure to buy gifts for each other while still allowing the children to experience the magic of Christmas. (Of course it could be argued that this isn't the sort of Christmas magic kids should be learning.)
The goal here is not to be cheap — it's to give thoughtful presents without breaking the bank. (And, for me, to not participate in the mad rush of consumerism during the holiday season.)
One last important piece of advice: if your family (or circle of friends) agrees to gift-giving guidelines, don't be the person who breaks them. People feel resentful when one person takes it upon herself to give more than the agreed terms. Stay within the rules and have fun.
Make it Fun
Fun is what it's all about. Christmas shopping shouldn't be a chore. Entertaining variations of the gift exchange include:
Secret Santa — If you have a group that's keen on the idea, Secret Santa can be a fun and inexpensive way to participate in the holiday season on a minimal budget.
Gift themes — Choose a theme — travel, computers, food, whatever — and encourage everyone in the group to base their gifts around it.
Draw names — This is an excellent way to cut down costs while still participating in a gift exchange. Before my family switched to $5 gifts, we each drew another person's name from a hat, and gave this person a nice gift.
White elephant — Rumor has it this is also known as yankee swap in some corners of the U.S. I love white elephant exchanges. They're a great way to get rid of silly stuff you have lying around the house. (Of course, you end up bringing home more silly stuff, but at least it's new silly stuff.)
On Monday night, we attended the annual white elephant exchange we hold with a group of close high school friends. Here I am (on the left) with the lovely statue I took home.
As you can see, my friend Ron (on the right) received a matching piece. Actually, we smuggled them both into the car while Kris wasn't looking. I'll set them up in the bushes around our property for my nephews to find during the summer.
We have another white elephant exchange this weekend.
Think Outside the Box
For most people, Christmas gifts mean shopping at the mall. But it doesn't have to be that way. Many wonderful gifts aren't tangible items purchased from a store. Here are a few examples:
Give the gift of experience. In October, the Gift Weblog wrote: "There's nothing like giving someone the gift of experience, it is something they will always remember." Sample gifts of experience: sky diving, scuba lessons, hot-air balloon rides, cooking school, lunch with a hero, etc.
Personal gift certificates also make great gifts. In essence, these are gifts of time. Give new parents a gift certificate for a night of baby-sitting so that they can enjoy a night on the town. Are you good with computers? Give your brother-in-law a gift certificate for free computer repairs.
For several years, my wife and I gave each other love coupons. Sounds sappy, I know. But it was nice to be able to come home at the end of the day and redeem a coupon for a dinner out, or for a back rub, or for an evening watching a favorite movie.
Our consumer culture has created a sort of mall-blindness. Most people forget to think of any other sort of Christmas present.
Do it Yourself
My favorite gifts are those that people have made themselves. Homemade gifts demonstrate caring, creativity, and passion. We are lucky to have many crafty friends. Every year, I'm delighted to see what they create for Christmas gifts. In the past, we've given or received:
A hand-assembled collection of gourmet salts, complete with written description of each.
Ginger snaps.
Art. (Do you dabble in photography? A framed print of your nephew is a great gift for your sister-in-law.)
Chocolate-dipped hazelnuts (from a family with a filbert orchard).
Home-made jams and jellies.
This year, Kris has drawn from her stock of pickled vegetables to create gifts for friends.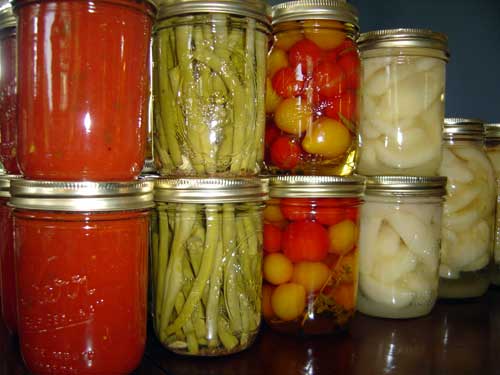 I crafted a homemade gift of my own: basil liqueur, brewed from vodka, sugar, and fresh basil from our garden. The stuff has been steeping for several months, and now is finally ready to share.
Surely you,too, have a talent or hobby that you can draw upon to create gifts for your friends.
Other Resources
If these ideas don't give you enough to think about, check out some of the other articles I've been collecting from around the web:
If you know of another site that should be added to the list, please forward the URL.
That's it. I've exhausted all the Christmas-related material I'd gathered for this year. The rest is up to you. What are your favorite ways to save money during the holidays?
Frugality doesn't take the joy out of Christmas. In many ways, it adds to it. It's a great feeling to find a perfect gift for only five bucks. Besides, when I think back to Christmases past, it's not the gifts I remember, but the time spent with friends and family.
In 2006, J.D. founded Get Rich Slowly to document his quest to get out of debt. Over time, he learned how to save and how to invest. Today, he's managed to reach early retirement! He wants to help you master your money — and your life. No scams. No gimmicks. Just smart money advice to help you reach your goals.