Get Rich Slowly aims to provide the best financial information possible. As part of the process, we naturally mention and recommend various products and services. Some (but not all!) of the companies we mention on this site may pay us a referral fee or commission when customers visit and/or are approved for various products. This compensation doesn't cost anything to you, the reader, and it makes it possible for GRS to continue providing the best possible info.
Get Rich Slowly also features display ads, such as this ad for Personal Capital: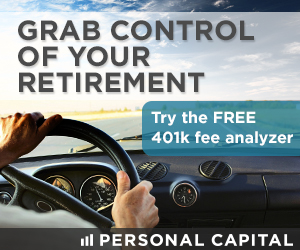 If we refer enough people who meet specific criteria, Personal Capital pays us a referral fee.
Everything on this site — the analysis, the opinions, the research — is that of each article's author and is not influenced or edited by advertisers. Advertisers have zero editorial input. More to the point, we strive to never let advertisers influence our editorial decisions. We write what we think will be useful to readers. After an article is complete, then we look to see if there's any relevant way to monetize that piece. If so, great. If not, also great.
Here's an example: Get Rich Slowly is part of Amazon Associates, an affiliate advertising program that allows Get Rich Slowly to earn a small commission on each item ordered through links from this site. If we review a book about money and you order it from one of our links, we earn a few cents (at no additional cost to you). That's not much on its own, but taken together these transactions create enough income that we can continue to operate this site. (And if you order a lawnmower, well then GRS earns more than just a few cents…)
We do our best to keep offers accurate and up-to-date, but we're only human. Sometimes we make mistakes. Sometimes we take vacations. We can't guarantee that everything here is accurate 100% of the time. (But we try!)
In the very rare case that there's more to the advertiser-editorial relationship than mentioned here, this will be prominently disclosed in the article. For instance, J.D. Roth is an investor in the company New Retirement. He made this investment because he thinks they're awesome and hopes their business grows. When we mention New Retirement on Get Rich Slowly, we always note that J.D. has an ownership interest in the firm.
Finally, Get Rich Slowly contains user-generated content. This material is not provided or commissioned by any of our advertisers. Responses have not been reviewed, approved or otherwise endorsed by our advertisers and it is not the advertisers' responsibility to ensure all posts and/or questions are answered.