Kris and I grow a vegetable garden every year, but some summers are more productive than others. This summer has been the most productive that I can recall.
We were swimming in berries from the end of May until the end of July. We had so many berries that we eventually gave up. Can you imagine? Not eating fresh berries that sit there, ready to be picked? We didn't let them all go to waste, of course. Kris canned some. I've been enjoying toast and freezer jam every morning since we returned from San Francisco.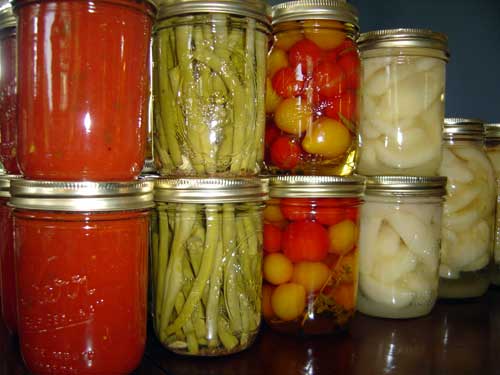 We were picking snow peas for just as long, eating them fresh from the vine. Eventually we gave up on those, too. (We planted our fall pea crop a couple weeks ago; I have little one-inch sprouts.)
Kris and a friend masterminded a tomato-growing extravaganza: they ordered seeds together, and are each testing certain varieties. Kris has eight enormous plants, and she's been harvesting the fruit every night. She's made tomato soup, tomato sauce, marinara sauce, and, of course, many batches of our favorite salsa. Her tomato map hangs from the fridge, and she's circled her favorite varieties (Aunt Ruby's German Green, Yellow Pear, Bloody Butcher, Dr. Wyche's Yellow, and maybe Caspian Pink) so that she can order them again next year.
We've also picked cucumbers and green beans and zucchini and corn from the garden. Our neighbors have given us apples and pears, and soon we'll pick grapes from across the street.
It's a veritable cornucopia.
What to do with all this food? Can it, of course. Kris has been canning like crazy — sometimes with her sister's help — and last night, she set out the fruits of her labor: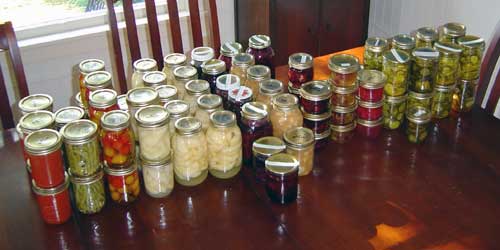 Here's a list of everything that she's canned:
3 kinds of bread 'n' butter pickles
sweet pickles
pickled zucchini
pickled green beans
pickled cherry tomatoes
preserved grape leaves (experimental)
pears
almond pears
pear pie filling
mixed berry pie filling
apple cranberry conserve
apple elderberry conserve
pear syrup
tomato soup
marinara sauce
Later she realized that she'd forgotten a box of jars downstairs. "And don't forget that we've given some away, too," she told me. She's also making some (gnat-infested) berry liqueur, which is fermenting on a shelf in the library. She's recruiting my help to can grape juice once the fruit is ripe.
Of course, all of this canning is nothing compared to some people.
If you have the time and the energy, home-canning is an fun way to save money. (Note that this is only true if you grow your own produce, or maybe if you pay to pick at a local farm. Buying produce to can isn't cost-effective, though your canned goods will usually taste better than those you buy in the store.)
"But, really," says Kris, "I just do it as a hobby."
p.s. Kris recommends Blue Ribbon Preserves: Secrets to Award-Winning Jams, Jellies, Marmalades and More, which is filled with excellent recipes. Our public library system has several copies. Yours may, too.
GRS is committed to helping our readers save and achieve their financial goals. Savings interest rates may be low, but that is all the more reason to shop for the best rate. Find the highest savings interest rates and CD rates from Synchrony Bank, Ally Bank, GE Capital Bank, and more.
This article is about Being Frugal, Being Frugal, Food